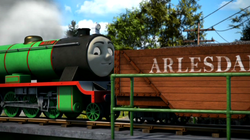 Rex
Gender: Male
Builder: Davey Paxman and Co.
Built: 1923
Arrived on Sodor: 1967
Designer: Henry Greenly
Configuration: 2-8-2
Rex is a minimum gauge engine
Bio
Trivia
Rex is the one of the few characters that match their actual voice actors these include Nutsy, Henry, Gordon, Thomas The Tank Engine, Homer, Ryan, Oliver, Mike, Bert, Cheer, Duck and Percy in James Coming Through!.
Ad blocker interference detected!
Wikia is a free-to-use site that makes money from advertising. We have a modified experience for viewers using ad blockers

Wikia is not accessible if you've made further modifications. Remove the custom ad blocker rule(s) and the page will load as expected.